All-wheel drive systems often differ from one another in dramatic ways, and as many drivers have already realized, VW 4MOTION® offers something very unique! This innovative take on traditional AWD lets you enjoy superior handling and performance at all times, so you'll be ready for the unexpected on all of your Urbandale and Des Moines drives.
The Basics of Standard AWD
Urbandale drivers that opt for AWD can enjoy many of the same traction and control benefits of 4WD, but with the added bonus of better fuel economy. AWD systems constantly remain on, but if you drive a 4WD vehicle, the system has to be engaged manually or by the vehicle's sensors. This delay can be noticeable in less-than-ideal driving conditions.
Volkswagen AWD Performance
If you opt for one of the Volkswagen 4MOTION® AWD vehicles, you will instantly notice that the automaker has made significant improvements to the standard AWD system. While all tires remain engaged, most often 4MOTION® AWD will distribute about 90% of the power to the front axle and 10% to the rear axle. Why is this beneficial? You get to enjoy the responsive handling of a FWD vehicle, but still have the added peace of mind provided by AWD.
How does the system work? If the 4MOTION® sensors detect a tire is beginning to lose traction, weight is immediately redistributed as needed. No matter the driving conditions on the Des Moines roads, you will always have the right balance of torque.
What Is All-Wheel Drive?
As many drivers already know, all-wheel drive is a drivetrain technology that can drive all four wheels at the same time. It offers improved performance relative to front-wheel drive or rear-wheel drive, and in most cases, it kicks in whenever you start to experience insufficient traction. In this, it can be contrasted with four-wheel drive, which usually needs to be switched on and off manually.
Explore the difference between Volkswagen AWD and other AWD systems by reading on!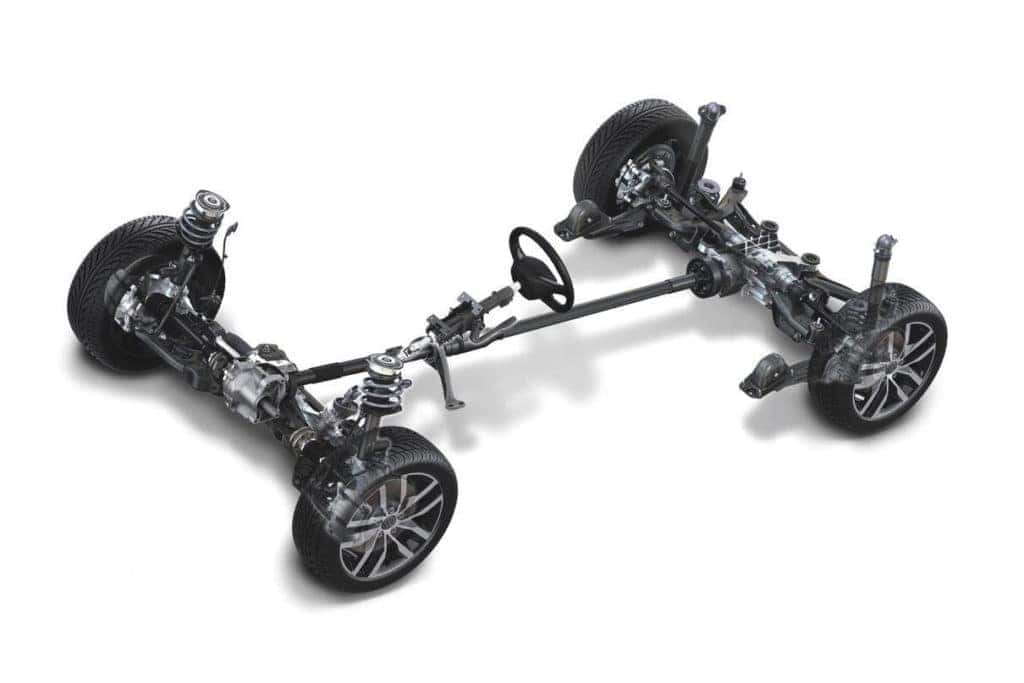 Superior Performance with Volkswagen AWD
As we noted above, most AWD systems are only engaged after you start to lose grip! This means that in most cases, all of your power will still be directed to one set of wheels.
4MOTION® is distinct in that it's always engaging more than two wheels. In most situations, your drivetrain will distribute 90% of power to the front wheels, and 10% of power to the rear.
For this reason, you'll notice that your AWD Volkswagen handles exceptionally well on the roads near Des Moines.
If your vehicle detects a loss of traction, it can instantaneously shift that balance, directing even more power to the rear wheels in order to keep you moving forward.
Experience VW 4MOTION® for Yourself!
If you really want to understand why drivers love AWD Volkswagen vehicles, we think you should spend some time behind the wheel. Once you've experienced VW 4MOTION® in person, you'll quickly understand why more and more drivers are refusing to settle for the lackluster AWD systems offered by competitors.
Check out our new Volkswagen models for sale to find a vehicle with 4MOTION® today! Then, simply contact us to set up your test drive. To get a better sense of what VW can do, find out how 4MOTION® contributes to the 2019 Volkswagen Atlas towing capacity before you stop in. We are also here to answer any questions you may have about the brand, such as "Who owns Volkswagen?"
More Volkswagen Model Features
Volkswagen Tiguan is more than just a pretty face. You can put it to work, too. It can tow and carry more than enough for most Johnston drivers' needs. Let's talk about the Tiguan towing capacity, the Tiguan cargo space, and the Tiguan payload capacity. View Tiguan Models Contact Us View Lease Specials…

If you are looking for an affordable SUV with many of the same opulent features found on more expensive luxury vehicles, you will want to take a look at the 2020 Volkswagen Tiguan interior. As soon as you step inside the cabin, you will be greeted by a wealth of amenities to take your…

The 2019 Volkswagen Jetta is back and better than ever, making it the perfect choice for drivers in the Des Moines area. If you are ready to begin the process of securing an affordable Volkswagen Jetta lease or financing plan, you first have to decide on which of the Jetta trim levels best fits your driving…